Television
Travel Channel, Jaw-Dropping Rentals
Villa Lilly was featured on the Travel Channel, Jaw-Dropping Rentals, on March 24, 2012.
The Travel Channel explores Villa Lilly's historical importance and the medieval tower's one of a kind wine cellar in this
special segment.
Publications

Huffington Post

"Oh, extravagance!"... The Huffington Post featured Villa Lilly on August 28, 2012, calling it a "rental compound to the stars" and "where we want to be right now."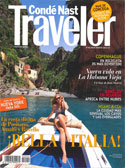 Condé Nast (Spanish Edition)

The July / August 2011 Condé Nast (Spanish edition) heralds Villa Lilly as "the perfect embodiment of what 's hidden in the rocks of these [Amalfi Coast] cliffs."

Photos of Villa Lilly's exclusive terraces and marvelous vistas can be found on pages 82 and 86.
Panorama Travel
Panorama Travel, the #1 travel magazine in Italy, published an article on the most scenic coast in Italy, the Amalfi Coast, in its September 2009 edition. On the cover page of the article, Villa Lilly was featured as the most romantic and exclusive villa on the entire Amalfi Coast.
Panorama Travel also noted that Villa Lilly's sunset views are exclusive only to that region of the Amalfi Coast (Tramonti Esclusivi). Also noted in the article was the exclusive service provided by staff in addition to celebrities that have stayed at the villa.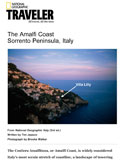 National Geographic
National Geographic's September 2009 Traveler issue rated the Amalfi Coast as the most scenic coast in the entire world.
On the cover of this article Praiano is featured with Villa Lilly situated on the exclusive six acres of waterfront property.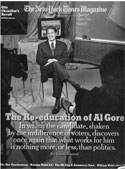 The New York Times Magazine
The New York Times Magazine highlighted Villa Lilly's medieval tower as well as the villa's prominent position on the Amalfi coastline. Also noted was the unique view from the guest house shower, which overlooks the Tyrrhenian sea.
Websites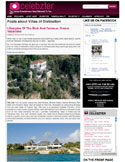 Celebzter
In March 2012, Celebzter.com featured Villa Lilly in the article "Lifestyles of the Rich and Famous: Dream Vacations." The article highlighted the Villa's celebrity clientele as well as its luxury accommodations and abundant amenities. www.Celebzter.com
Spire
Suzanne Aaronson is the co-founder of Spire, a unique lifestyle company who caters to those with discerning taste. In the September 2009 edition of "Suzanne Files", Villa Lilly was rated one of the top five villas in the world.
Fashion Catalogues
Other Publications
Villa Lilly has been featured in international publications Amica and Point Devue.