Samantha O. Hirshberg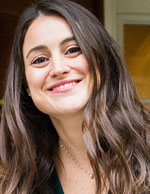 Samantha Hirshberg serves as Costa Land Company's Executive Vice President. Samantha oversees the management and operation of nearly one million square feet of Costa Land Company's commercial real estate portfolio, including landlord/ tenant relations. Ms. Hirshberg also researches contacts for prospective commercial lease opportunities and handles numerous aspects of the firm's public relations and marketing responsibilities.
A 2002 honor's graduate of the University of Pittsburgh with a Bachelor of Arts degree in creative nonfiction writing, Ms. Hirshberg also holds her M.Ed. in Secondary English Education. She is actively involved with the Pittsburgh Carson Scholars Fund.